Andreas Lewis, nicknamed 'Ethnic', was a Firefighter at Blackwall Fire Station who appeared in the 1986 pilot movie.
Biography
[
]
Ethnic was (presumably) one of the first black officers in the London Fire Brigade. He was the target of jocular and casual racism from Vaseline most of the time. Ethnic lived with his parents and had a girlfriend called Charlene. When with his parents and with the other members of his community, he spoke with a strong Jamaican accent, but reverted to a cockney accent in the presence of his equals — Charlene, Blue Watch, the police and his band.
He lived on a rough housing estate, where anyone in a position of authority was unwelcome. He tried to hide what he did for work, and told others that his job was sweeping up. As a result of the wages from his job, his mother was able to afford to go some more high-class shops and buy a lot of goods there — something which made her uncomfortable as her neighbours were unable to do so. Some gang members on the estate got suspicious when the police were friendly with him after searching the bag containing part of his fireman's uniform. They eventually found out that he was a fireman when he was on a visit to a local school, and one of the gang members spotted him. Following this, a burning newspaper was pushed through his letterbox, nearly starting a fire until Ethnic extinguished it.
After a meeting with Tate and ADO Petrie, he learned he had been promoted to Leading Fireman at Archway fire station. Shortly after this, he inadvertantly walked in on the watch planning his farewell meal, which included a lot of Afro-Caribbean food, and led Vaseline to ask if his 'lot ate anything edible',
A ghetto riot broke out on the estate where Ethnic lived, and the watch were called to cars alight on the estate, but came under attack shortly after, with people attacking the appliance and members of the watch. Despite being told to stay together, Charisma was cut off and ran down an alley further into the estate. Ethnic was on a day off from work at the time, and came out of his flat and was looking what was going on over the balcony. He could see one of his friends being attacked by a police officer. At seeing this, he got upset and ran down to save him. When he reached the bottom of the stairs he could see his friend but also saw that Charisma was being attacked as well, and decided to help Charisma instead. One of the people up on the balcony saw what he did and called out for Ethnic to be attacked. A man shouted 'Oi, traitor', and a large paving slab was dropped, striking Ethnic on the head, knocking him to the ground, killing him instantly. 
The watch are seen eating the farewell meal cooked for Ethnic, with Charisma visibly upset. His family are then seen in a flat with Ethnic's uniform. His friend Lloyd Anderson initially took his place in the last few minutes of the pilot. In series 1, Tony Sanderson had taken over the role of the only black firefighter in Blue Watch.
Ethnic was only mentioned once in the series after his death, in the third episode of series 3, four years after his death. Colin Parrish gave chase to a fleeing criminal, which resulted in Bayleaf going after him and nearly getting his throat cut. Bayleaf furiously warned Colin that if he was not careful, he would meet the same fate as Ethnic. 
Appearances
[
]
Ethnic only appeared in the 1986 pilot movie.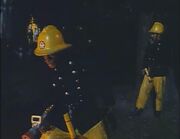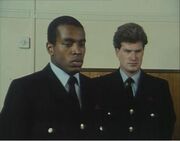 Photo Gallery
[
]